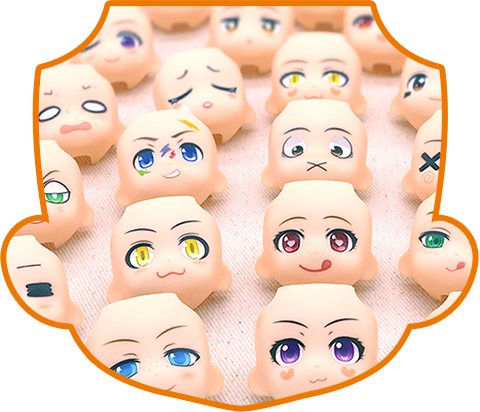 A Photo Contest for Nendoroids with Original Face Plates!
This photo contest is only open to photos that include Nendoroids with face plates made from the Nendoroid Face Maker, at events during the Nendoroid Expression Challenge or other face plates made from scratch! Create an interesting situation with your original face and post it to Twitter or Instragram!
What is the Nendoroid Face Maker?
The Nendoroid Face Maker is a special site that allows you to design and order unique face plates for Nendoroids! It is constantly updated with new designs allowing for infinite different possibilities!! Please note that the service is currently only available in Japan.
Please note that orders from the Nendoroid Face Maker service can take up to 14 days to process. Should you wish to enter this contest with a new order, be sure to order early. In certain circumstances orders may also close.
Hand drawn expression on blank Nendoroid Face are also allowed in the contest!
What is the Nendoroid Expression Challenge
The Nendoroid Expression challenge is a special corner held at events around the world where you can design your own Nendoroid Face Plate.
Results of the Photo Contest will be announced at the Winter Wonder Festival 2018 taking place on the 18th February 2018, as well as announced on this page thereafter!
Please note that the schedule may change without notice.
Contest Period: 9th January 12:00 (JST) to 7th February at 23:59 (JST)
This contest has ended. You can find the results here!
(The "Early Bird Prize" will be selected from entries made between the 9th January and the 12th January 2018)