The Nendoroid More: Face Swap series that featured a variety of new expressions for your Nendoroids is coming back once again in an all new set! We already have a number of special Nendoroid face plates in the works, but we are also looking for some fan-made designs to include in the set! If there has ever been an expression you wished existed for Nendoroids now id your chance to have that design become an official product!
How to Submit Your Design
Download the template image below (.jpg) and draw your Nendoroid expression on the design.
Save the completed expression as a .jpg or .png file and submit it below!
Download the Nendoroid Face Template
Submission Period
Submissions are Closed
Submissions are open from 7th December 2017 from 12:00JST until the 19th January 2018 at 23:59JST
Results will be announced at Wonder Festival 2018 at the WONDERFUL HOBBY LIFE FOR YOU!! 27 Booth as well as on this page and the Nendoroid More: Face Swap 03 product page on the 18th February 2018. Look forward to the results!
*Date is not final and may change without notice.
Prizes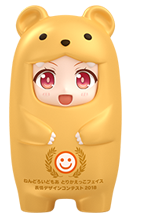 There will be a total of three winning expression designs! Each winner will receive a special golden colored Nendoroid More Face Parts Case and well as a complete boxset of the Nendoroid More: Face Swap 03. (Prizes will only be sent when Nendoroid More: Face Swap 03 releases)
Terms and Conditions
By submitting your design to this page you agree to the following terms and conditions.
1) You confirm that this submission is your own work, is not based on any others works and does not infringe on any copyrights. If your illustration is found to infringe on any copyrights we reserve the right to remove it from the contest without notice.
2) You agree to not claim any personal rights regarding your submission against Good Smile Company or any company designated by Good Smile Company.
3) Should your submission be selected for use as a product, you agree to pass all rights to the work over to Good Smile Company with no compensation.
4) Your submission may be introduced on the Good Smile Company official website or social media.
5) Should your submission be selected for use, it may require alterations to be used as an official Nendoroid expression. These alternations will be made without the confirmation of the original author.
6) We will contact the owners of winning submissions by email. Please note that we will not respond to any queries that relate to the acceptance, status or results of submissions.
7) In the case of a misunderstanding, the original Japanese terms and conditions overrule the terms and conditions on this page.
Privacy Policy
All information provided to us through this page will only be used for the purposes of the campaign or sending products to winners. It will not be provided to any third parties.
- Personal Information of Minors -
Personal information of minors will be used and protected in the same manner as adult's information. However, minors must have consent from their guardians before submitting information to this sites.
Submissions Closed