X-BOMBER Exhibition 2022
日本語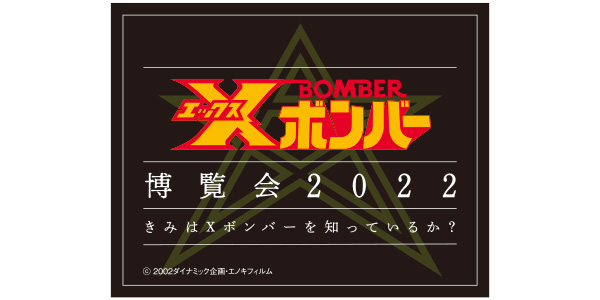 開催情報
Name

: X-BOMBER Exhibition 2022

Date

: October 8-16, 2022

Time

: Saturday/Sunday/Holidays: 11:00-19:00
Weekdays: 16:00-20:00

Venue

: Akiba CO Gallery

Address

: 3 Chome-16-12 Sotokanda, Chiyoda City, Tokyo 101-0021

Map

Ticket

: In advance: ¥1,500
At the door: ¥2,000
*New visitors will be allowed into the venue every 60 minutes.

▼Ticket Sales at LIVEPOCKET
Details
URL: https://t.livepocket.jp/t/v-hyn
*Japanese website
イベント内容
2021 marks the 40th anniversary of the original broadcast of "X-BOMBER". This retrospective exhibition will feature reconstructed models by sculptor Fuyuki Shinada.

Experience X-BOMBER through the meticulously reconstructed dolls and spaceships based on plaster molds used during the filming of the original show that Shinada has spent 20 years creating, along with design illustrations + original merchandise designs created by the late Tatsuji Kajita and other precious items that have survived since the series' broadcast.

A special catalog covering the exhibited pieces along with interviews from the people involved will be available for purchase at the exhibition along with a variety of other merchandise.

■Gallery Live Talk Event
In commemoration of the X-BOMBER 2022 Exhibition, a live talk event will be held with Fuyuki Shinada.
The event will be standing room only, and will feature Mr. Shinada talking about exhibition items while viewing the exhibition space.
Be sure to join us for this unique experience!
■Schedule
・October 12, 19:00~20:00 Entry Period (Talk Theme: About the Puppets)
・October 14, 19:00~20:00 Entry Period (Talk Theme: About the Mecha)
・October 14, 18:00~19:00 Entry Period (Talk Theme: About the X-BOMBER Exhibition)
*Each talk is planned to be roughly 30 minutes long.
Notes
・Please refrain from taking photo, video or audio recordings during the live talk events.
・Only event-goers with entry tickets during the applicable entry period can participate in the live talk event.
・No extra fees are required to participate in the live talk events.
・In the event that a live talk event is canceled, we will not be able to offer refunds for exhibition tickets. Only in the case that the X-BOMBER Exhibtion 2022 is canceled will we be able to offer refunds on tickets.
・Live talk events will be held in Japanese only.
■Visitor Bonus
Visitors to the event will receive an original card!
Three card designs—Shiro Hagen, Lamia and Big Dai-X—will be distributed at the event
*Card design cannot be chosen. Cards will be distributed randomly.
*Only one card may be received per entry.
*Supplies are limited. Bonus distribution will end once supplies run out.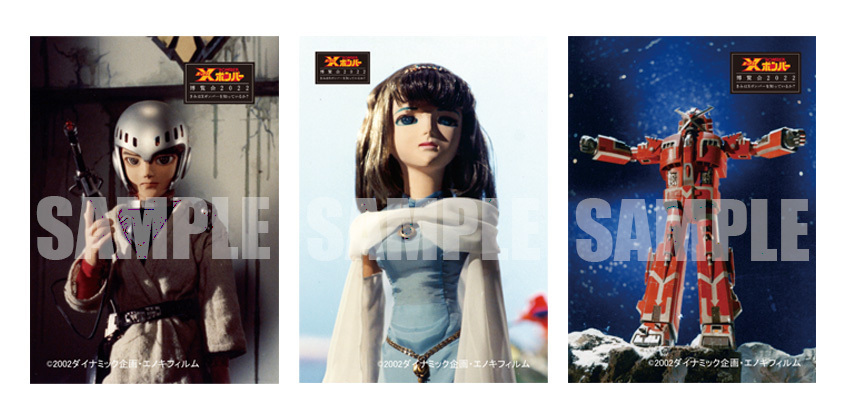 ■Event Merchandise Info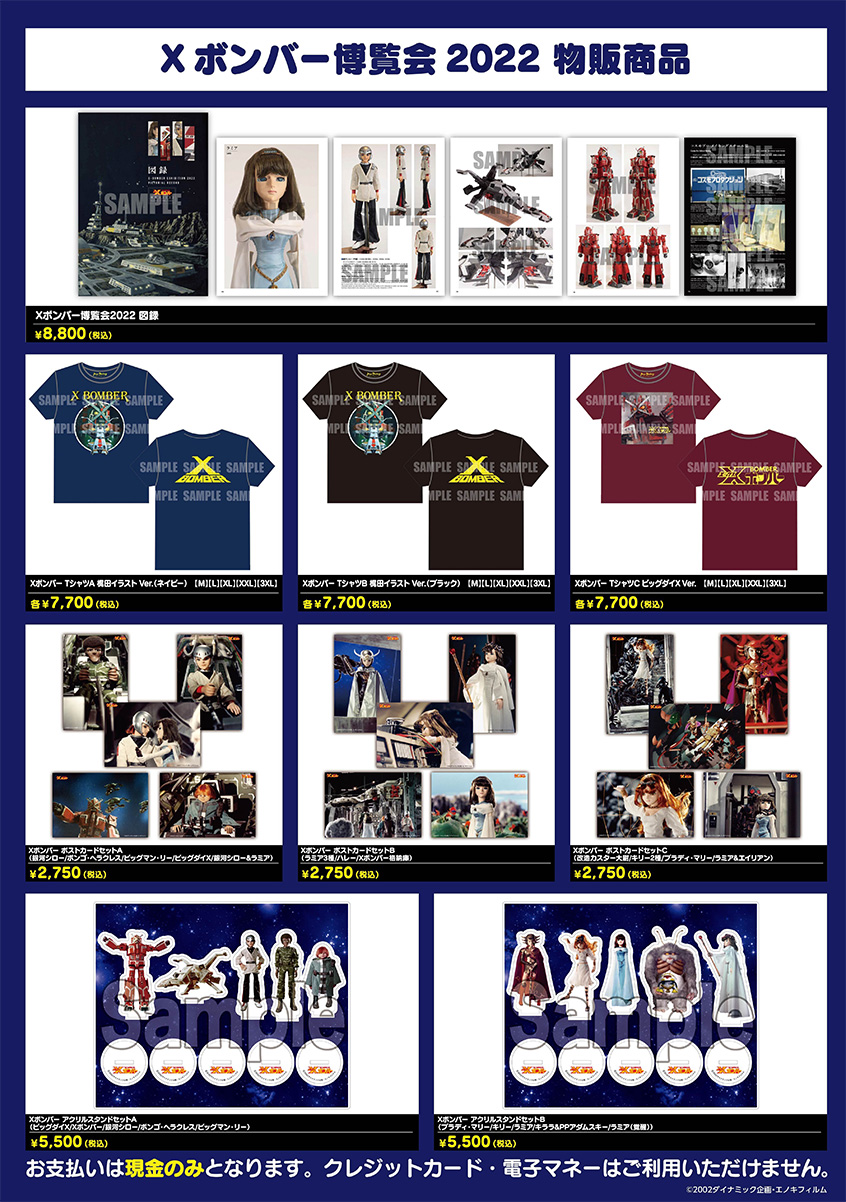 *Payment will only be accepted in cash. Please note that you will not be able to use credit cards or electronic money to pay.
Please help us prevent the spread of COVID-19 by following these preventative measures.

■When entering the exhibition:

・Please be sure to wear a mask at all times.

・We will take your temperature at the entrance, and if you have a fever of 37.5 degrees Celsius or higher, you will not be allowed to enter.

・Persons with fever, cough, sneezing, runny nose, fatigue, general pain, diarrhea, or other symptoms will not be allowed to enter.

・Persons who have been in Japan for less than 14 days after entering from a country or region where the government has imposed entry restrictions will not be allowed to enter.

・Please be sure to disinfect your hands with hand sanitizer at the entrance.

・If you feel unwell during the show, please ask a nearby staff member for help.

・Please do not wait outside the entrance of the exhibition.

*The event may be subject to change, postponement or cancellation.

*Content of the exhibition is subject to change.