Hatsune Miku Expo 2014 in Los Angeles
English

Event Information
Venue

: Hatsune Miku Expo 2014 in Los Angeles
Concert Location: NOKIA Theatre
Hatsune Miku Halloween Party: Los Angels Center Studios

Booth

: Good Smile Company

Address

: Nokia Theatre L.A. LIVE:
777 Chick Hearn Ct · Los Angeles, CA 90015
Los Angeles Center Studios:
1201 W 5th St T-110, Los Angeles, CA 90017

Location

: USA

Ticket

: Hatsune Miku Expo 2014 in Los Angels
Hatsune Miku Halloween Party: Free
Concert Tickets: Paid (See Official Site)

URL

Facebook

Date

: 11th October 2014 - 12th October 2014
Twitter
Event Details
Good Smile Company will be attending Hatsune Miku Expo 2014 in LA  which will be taking place in Los Angeles from the 11th October 2014 – 12th October 2014.

The very first sales of Nendoroid Hatsune Miku: Halloween Ver. will be at the event, along with various other Hatsune Miku goods. The latest figures such as Hatsune Miku: Tell Your World Ver. will also be on sale at the event. The GSC booth is in the Hatsune Miku Halloween Party Area of the event, not at the concert area.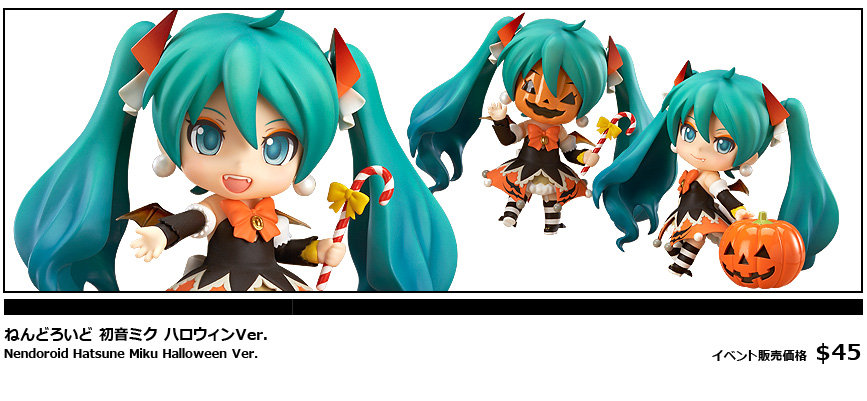 Various other Hatsune Miku-related products will also be on sale!
■Also on sale at the Hatsune Miku Expo 2014 in New York:Hatsune Miku Art Exhibition"Universal Positivity"
Official Site:
http://mikuexpo.com/ny

■Orders for the Nendoroid will also be open from the 25th September on the GOOD SMILE ONLINE SHOP!
*Stock is limited. Arrive early to avoid disappointment.
Costume Design: Suoh. © Crypton Future Media, INC. www.piapro.net