MAXFACTORY 'Combat Armor Dougram' Release Commemoration & Talk Event
日本語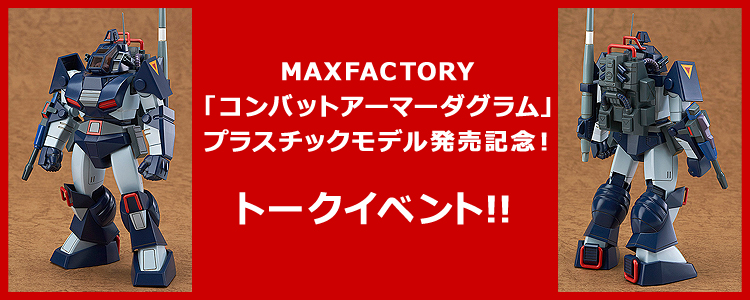 開催情報
Name

: MAXFACTORY 'Combat Armor Dougram' Release Commemoration & Talk Event

Date

: 2014/01/26 (Sun): 14:00 ~ 17:40 (JST)

Venue

: Kotobukiya Akihabara Store 5th Floor
Kotobukiya Space Akiba

URL
イベント内容
In commemoration of the release of Max Factory's COMBAT ARMORS MAX 01: 1/72nd Scale Combat Armor Dougram, a special talk show, plastic modelling course and signing session will be taking place in Akihabara!

■ Event Details
14:00 – 15:00: Talkshow (MAX Watanabe & Takahiro Yamada)
15:20 – 16:20: Plastic Model Beginner's Course & Display (MAX Watanabe & Kei Shimizu)
16:40 – 17:40: MAX Watanabe Signing Session
■ How to Attend
Attendance is limited to those who purchase the COMBAT ARMORS MAX 01: Combat Armor Dougram from Kotobukiya Akihabara.
A maximum of 80 attendees is possible, and only the first 50 will receive signs at the signing session.
■ Product Details
COMBAT ARMORS MAX 01: 1/72nd Scale Combat Armor Dougram
http://www.goodsmile.info/en/product/4083/